Click on the month or category you want to view and the results will appear below
By Date
Archives by Category:
---
Day 28 – Do the Math!!
Posted on November 30th, 2013
Onboard Haskapa, it's all about numbers: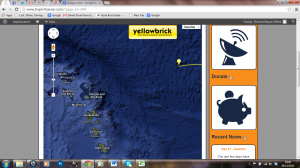 Speed
VMG
Max speed
Average speed
Distance travelled
Distance left
Daily distance
Average daily distance
Course
Bearing
Lat & long
Wind speed
Wind direction
Wave height
Wave direction
Time
Date
Journey time
Number of meatballs in the pasta
etc, etc
But, it boils down to just one number right now. To reach Antigua mid afternoon (local time) on Monday, when you're watching the early evening news (or reruns of Top Gear on Dave!), I need to average 5 knots directly towards the final waypoint.
Frustratingly, I cannot sail directly towards Antigua at the moment, as the wind has shifted, and will continue to do so. So this means it's all about VMG – velocity made good!!! >5knots VMG = good … < 5knots VMG = bad!!
It's very stressful!!!!
…………………………………………………………………………………………………………………………………
Today's thank you goes to; Mrs Airey, Sarah Blocksidge & Bodyzone24, Dr Pollack, A Melrose, Louise Worsley, Doerte Steinhoff, Mike & Margaret Shaw and Jane Burt & Family. Thank you all so much for your very kind donations !
---
Day 27 – Bedlam
Posted on November 29th, 2013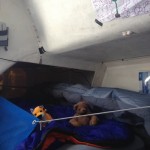 The last few days have been very hard work & extremely tiring for a number of reasons.
Firstly the weather, for 2 days the wind blew strongly, which made for good progress but is tough to live in. This was followed yesterday by a hugely frustrating day of inconsistent wind strength & direction. Massive clouds simply hoovered up the wind, and I was left slopping around in nothing. Then it would suddenly fill in at 20 knots, and we'd go zooming off again. Maddening!!
Secondly, it is really stressful!! As I get closer to Antigua, so the consequence of failure makes me ultra cautious of pushing too hard and breaking something (else!).
Thirdly, the wear & tear continues. This has affected my sleep, as my bed has been behaving badly!! I have a couple of air beds that I use. I developed a slow puncture in #1 bed very early on and gets flat in 2 hours, so have mainly been using #2. This has suddenly acquired a huge gut, and now resembles a blimp (internal structure seems to have split!). So I have one bed with too much air, and one with not enough!! The problem with #2 is that it's like trying to go sleep on a space hopper. I kind of drape myself over it, but the bumpy motion of the waves is exaggerated by the bed – slightly behind the boat's movement – so that I end up gyrating like a loony! #1 is just uncomfortable. As a result I have not had much sleep!! Hopefully I've fixed #1′s puncture now! The blimp is joining the white spinnaker in the naughty corner.
I've also broken my wireless router which means email access is limited. The inverter has stopped working properly, so I tried to wire the router in more directly. Now I'm not that competent with electrics, but I know enough. I'm confident that when a piece of electrical kit goes pop and starts producing smoke, it probably means it is kaput. I've got a backup! I can run emails through the Yellow Brick tracker – which is the most amazing bit of kit – and shows you my position on the website. Highly recommend one if you're doing any sort of remote travel, event, or simply want to let people know where you are!! Thank you to Nick and the team for your support.
The VHF antenna has also suddenly adopted a horizontal position at the top of the mast – the result of a very nasty squall we had. It looks a bit odd, but is still working!
Less than 500 miles to go now. Must hurry up and get there before anything else breaks!
………………………………………………………………………………………………………………………………………….
Today's thank you goes to Arthur Phillips, Michael Austin, Anthony Harnden, Steve & Laura Davies & Family, Susie Pollard, Robert & Robyn Dawson & Family and Mr M Lacey. Thank you all so much for your very kind donations!
---
Thank you!
Posted on November 28th, 2013
Today is also dedicated to Richard's brother Tim Mayon-White and sister Amanda Rowland and their families. We're all thinking of you and your wonderful mum on this tough day. Thank you for your donations and your fantastic support in Richard's challenge.
---
Day 26 – "To Mum".
Posted on November 28th, 2013
Today would have been Mum's birthday.
This journey was always all about Mum and what happened to her. I started out from Gibraltar exactly 2 years after she died, and ideally I wanted to finish the crossing on her Birthday, today. But that was always going to be difficult to achieve.
Since I was a boy, I've wanted to undertake a solo ocean crossing, inspired by reading about Knox Johnson, Chichester and others. Now with a family and other commitments, I had pretty much ruled out having the time to do so. Mum's illness changed that, and gave me the drive and determination to make something good out of a horrid situation.
Mum was an incredibly intelligent person, caring and thoughtful. She was quite traditional in some of her thinking, but was liberal and progressive too. She was also an advocate of a healthy lifestyle, and as a Doctor treating diabetes promoted many aspects of a proper balanced diet many years before they became mainstream. She was also a passionate anti-smoker, and that she should have been affected by lung cancer is the cruellest and most bitter of ironies.
We all miss Mum, and being able to share with her what is happening in our lives. For me personally, this time on-board 'Haskapa' has given me the time to process what happened to Mum. I now realise that did not allow myself to grieve at the time, and I have found myself feeling incredibly raw emotionally as I now deal with her death and what it means.
To my young children, who barely got to know her, Mum is 'Granny in the Sky'. They think of her as a star, which is linked to a version of the circle of life that stemmed from fending off awkward questions from our very bright and inquisitive daughter:
'Daddy, where do babies come from?'
'Mummy's tummy'
'Was I always in Mummy's tummy then?'
'Errr….no.'
'Where was I before that then?'
'Ummmm…..well, you were a twinkle in my eye!'
'Like a twinkle star?'
'Err….yup, that's exactly right…..!'
And so for her, we all start and finish as stars, which is okay as a belief system for a little girl.
And it works for for me too. Sailing along under starlit skies each night, I also like the idea that Mum is a star, looking down at me bobbing around in the ocean.
To Mum.
And to all Mums.
---
Day 25 – Careful What You Wish For!!
Posted on November 27th, 2013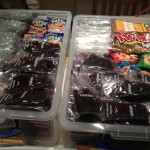 Having tempted fate with the go faster haircuts, etc, the wind duly arrived – with attitude!! I've now got 20-25knts, with a bit more in the squally clouds, and a very confused sea state!! Having been playing with big sails on Monday, I've now only got tiny scraps of sail up, and we're still bombing along!!
It's hilarious how quickly one adjusts to relative speeds. With the stronger winds, Haskapa has been doing 10 knot plus surfs down waves, and suddenly speeds of 5 and 6 knots seem pedestrian! Yet only two day ago, reaching 4 knots was a major achievement, and the thought of 6 knots as ridiculous as winning the lottery.
With the increase in speed also comes the hope of arrival dates in Antigua. This is a very dangerous game emotionally, so I have to be very careful to manage my expectations. But it is impossible to avoid the extrapolation of daily mileages into arrival times. All I'm going to commit to in public is that, all things being equal, I should arrive next week!!!!!
The other adjustment that needs to take place is for the change in the motion. Having had a few days of quite smooth sea states, the bumpy stuff takes getting used to again!! It is also harder on me and the boat in terms of wear & tear. I spent a bit of time yesterday patching sails, which are showing the miles that they've now sailed. Equally, my hands in particular are a mess. Cuts don't really heal properly, and the skin is all flakey!! Both Haskapa & I are starting to look a little ragged!
I did manage to treat myself to a hot shower though, by capturing rainwater from the squalls. The downside was that in order to catch the water, I had to endure two cold showers!!! It was lovely to feel really clean for the first time in days!
I'm now well and truly in to my fourth rotation of the menu, and it's just starting to get a bit dull. The excitement of counting the number of meatballs in the pasta has really lost its shine! It's fascinating how much my taste buds crave interesting tastes – I've got curries, chillies and sweet & sour meals, an these are far more appealing than the more bland meals of pasta and sauce. This leads on to another emotionally tricky game – planning the first meals that I'll eat in Antigua!! There are quite a few more boil in the bag meals to get through before I can really let myself go on that game!!
Anyway, I'll just keep banging out the daily routine until one day, hopefully soon, someone tells me to stop!
……………………………………………………………………………………………………………………………………
Today's thank you goes to Chrissie Cooper, Lorna & Bobby Angier, Pippa Milton & Family, Matt & Jo Lambert & Family and Philip Norris. Thank you all so much for your very kind donations!
---
Day 24 – Changing Gears!
Posted on November 26th, 2013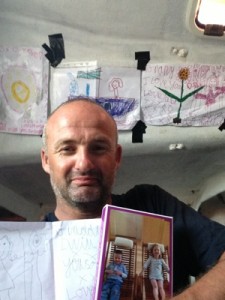 Haskapa and I got all turbo nutter again yesterday afternoon!! Perhaps frustrated by a slow day on Sunday, and this ongoing niggle that I should push the boat harder, we decided to give it a bit of welly!!
Unsurprisingly, the result was a lot of crash bang wallop! Over the space of about 4 hours, the sequence of events went like this:
Light winds in morning
Set big blue spinnaker, plus full main
Huge line of squalls approaches
Set off downwind at Mach 2
Total wipeout
Break kicker (again – of more in a mo)
Genoa up
Wind drops
White spinnaker up (groans all round)
Inevitable spinnaker wrap (to be fair was driver error – was trying to select different playlist on iPod & had multitasking issues!)
Genoa back up, plus flying jib (just because!)
Lunch break!
Wind drops again
White spinnaker back up
Another line of squalls
Manage to hold it together for 1 hour @ average of 8knts
Another big wipe out
Genoa & flying jib up again
Wind drops
White spinnaker back up
Line of squalls approaches
Etc etc
It was a lot of fun, but hard on both me & the boat! The kicker mast fixing broke again, as mentioned. When he used titanic sized rivets to put it back on, Handy Andy said that they'd never come out again – and he was right!! Instead the fixing shattered, leaving just the bits where it's riveted! I've now rigged up a ball of knitting to hold it in place!
After all that, I've gone back to the default position of being super conservative. The real difficulty is predicting what wind is under these clouds. I normally err on the side of caution, but on a number of occasions have found the there is no wind at all under the cloud, so have just ended up drifting even more slowly having reduced sail!!
Hey ho!! Anyway, the day ended with a fantastic find of more chocolate stashed in a food box, complete with a lovely 'have a happy day' card made by daughter!!
……………………………………………………………………………………………………………………………………………………
Today's thank you's go to; Pat & Joy O'Keeffe, Claire Nash (& Longparish Playgroup), Bill Hiorns, Mary Miller, Patrick Milston and Mr E Upton. Thank you all so much for your very kind donations!!
---
Day 23 – Daily Routine!
Posted on November 25th, 2013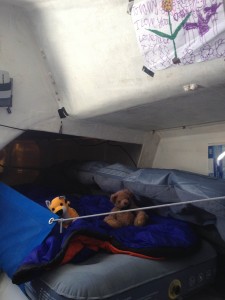 The time onboard Haskapa is still kept at GMT, mainly because it helps me coordinate timings with things back in the UK. But now that I'm so far west, the daily routine really revolves around sunrise and sunset.
As I'm not racing, and because for me it's a marathon not a sprint, I tend to run the boat differently during the day and during the night! At sunrise, I first get the solar panels aligned to catch the first rays of sun in order to recharge the batteries, then normally recharge my own batteries with breakfast! I then set the boat up for the day, which normally means adding more sail area, and once I'm happy that Haskapa's going the right way at the optimum speed, I do a morning check over the boat.
Next up is the daily updates, and I email these through and in return get the weather, an update from Liz, all your comments, and any other correspondence. I then usually spend up to an hour reading these, drafting responses, and looking at course strategy based on the weather report.
Once the 'office work' is complete, I normally take over steering the boat for a couple of hours to give the batteries more chance to fully recharge. Then it's lunch and more steering!!
I normally steer for 4-6 hours per day, depending on the weather and sea state, only putting the auto helm back on to give myself a break or sort out sails. The afternoon ends with my exercise routine, and a phone call home!!
Just before sunset, I eat supper and then set the boat up for the night. This normally means reducing sail area, in particular if I've been sailing under spinnaker. Although this has an affect on speed, it means that there is less likelihood of me needing to totter up to the foredeck in the darkness!!
The routine for the night will basically see me checking on things every two hours or so, and involves a check of the sail trim, course, a good look around for other vessels, a check on position and a check on the AIS system – which indicates if there is any commercial shipping in the area. Then back to my pit for some more shut eye. If the weather demands, I may be up on deck for any amount of time during the night – whether it be changing sails, or steering through squalls.
I'm definitely tired, but I'm managing to avoid getting too sleep deprived – but when the wind is very light, like Saturday night's flat calm, sleep suffers, as its impossible to set the boat up to steer itself, so I end up popping up and down from the cabin like a yo-yo!!
I'm now less that 1000 miles from Antigua, which is an important psychological barrier to get through – at the very least, there are only 3 digit numbers left to run!!! However, I'm now into the really hard period of managing expectations around arrival dates. The weather forecast is not unhelpful for the next couple of days, but there are more light patches predicted for next weekend, which may see me slow right down again tantalising close to the finish!! So I'm trying very hard to stick to the routine, and not to get excited about the arrival.
The slow pace and almost flat calm yesterday did allow me to really look at what was in the ocean around me. There is much more seaweed  here, and obvious plankton and other small organisms. Although there were a few larger items of rubbish (mainly polyprop rope/netting) some of which had been colonised by weed, there was no sign visibly, nor in the net, of any small particles of plastic.
………………………………………………………………………………………………………………………………….
Today's "thank you" goes to; John Dobson, John & Annabel O'Keeffe, Mrs J Tarrant, Latifah Alsaid, Roy McCafferty and Laura & David Wearn & Family. Thank you all so much for your very kind donations!
---
Day 22 – Go Faster Haircuts?
Posted on November 24th, 2013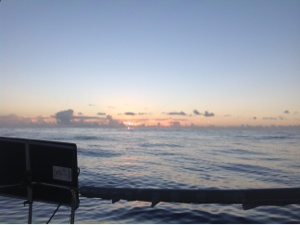 The forecast is for light variable winds for the weekend in my little patch of Ocean. And the forecast was right!! After light winds on Saturday, the wind disappeared overnight, and we ended up drifting along in zero wind, propelled only by the residual ground swell waves from the North East. The breeze is now forecast to slowly fill in from the east, but I'm set up for a slow day.
These patches of light and zero wind are mentally & emotionally hard, with very slow progress and needing to fight to take advantage of what breeze there is. I'd very much prepared myself for this one, and am slightly more relaxed, and taking advantage of the time to sort things out. It's almost like having a relaxing Sunday morning at home. All I need now are some pain au raisin, the papers and a coffee!!!
In the calm before the …err…calm, I took the opportunity to tidy up the boat and the skipper a bit. This means we've both had haircuts!! I took the clippers to trim what remains of my curly locks, and tidied up Haskapa's 'Mo' – which proved very resistant to removal!! Most of it is still in situ!!
Then, sporting our new turbo nutter haircuts, we put our baseball caps on backwards (me literally, boat figuratively – although was tempted to put white spinnaker on backwards to see if it behaved any better that way!), and waited for the wind not to blow, both smirking ironically at how funny we are!! I also put on my iPod warp-speed playlist of punk and rap, which had its last airplay during the passage through the maelstrom between Tenerife and La Gomera – when I was surfing down waves at 14knots under triple reefed main only!! In the event, we tickled along ok for most of Saturday, before the wind finally ran out of puff on Saturday night.
During the tidy up of the boat I managed to break one of the four pairs of sunglasses I have. I don't really have a good head/face shape for sunglasses (or hats!!), so I have to choose styles carefully to avoid just looking odd. The other issue is that an active lifestyle and an occasionally tendency for clumsiness make it nonsensical to buy branded sunnies, so I normally buy cheap ones that vaguely suit me.
Having lost my main pair about 10 miles out from Gibraltar, then damaging the reserve pair en route, I had a series of panic buys in La Gomera – which is not a world centre for sunglass outlets. The result was panic buy number 1 – which were last seen being worn by someone in the 80′s, and number 2 panic buy of two paid which do suit me, but only cost €5 each!!
It will come as no surprise to any of you that the only pair which are unbroken are the silly 80′s ones! Thankfully there are no fashion police out here, or cameras to record how dumb I look, and I can anticipate a nasty fate for them prior to arrival in Antigua!! Also, there is a reason why things only cost €5 – because that's all they are worth!!
The lack of wind brings other challenges too, in that it is incredibly hot! I know the UK is really cold now, so you won't enjoy hearing how sunny it is here! There is no real escape from the heat – on deck and in the cabin are equally stifling! It is a bit cooler at night, which helps, but that will change as I drop further south in the next week or so. The only respite is when the breeze kicks in. Somehow I don't expect much pity from you lot back in chilly Blighty!!!
…………………………………………………………………………………………………………………………………..
Huge thank you's today go to; Bill & Joyce Mayon-White, Veronica Johnson-Roffey, Victoria Curran, Martin & Kim Lampard, Chris & Babs Duxbury and Kit Flemming. Thank you all so much for your very kind donations!
---
Day 21 – Kind of Downhill From Here?!?!
Posted on November 23rd, 2013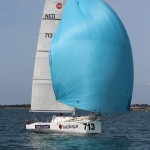 I've now passed the halfway point on the transatlantic leg of my voyage!!! So it's sort of downhill from here to Antigua!!! Carrying on the comparison with the working week, whilst you enjoy your weekends, I'm now at Wednesday lunchtime!!
I've always had a soft spot for Wednesday afternoons, which dates back to my schooldays – Wednesday afternoon meant sports!! At this time of year, that would involve a rugby match on some windswept, poorly drained, muddy patch of ground somewhere in the south east of England. That made it infinitely preferable to any other weekday afternoon, which contained horrors like double Maths!
When I was in the Third Form, the only escape from the boredom was to hope that our Maths Master had treated his two dogs to a lunch of suet. The resulting toxic emissions usually resulted in a need to evacuate the classroom at some point!
Some relief could also be gained by getting him, as an ex-military man, to digress into the topic of warfare. On one such occasion, he'd strayed off the curriculum and was going full pelt on the subject of military innovations benefiting civilian life, using the example of the defensive weapon of barbed wire benefitting farming. Noticing that one boy had nodded off, he woke the poor chap up by asking what weapon had helped farmers control cattle. The boy, incorrectly putting two and two together (it was maths!!), but making an educated guess, came up with the classic answer: '….err, was it the machine gun, sir?'! Still makes me chuckle now!! Countryfile would attract a very different audience!
Mind you, even maths was better than double French!! If you'd overdone it with a second helping of article roll at school lunch, and tried to indulge in a bit of après repas reverie, inevitably you would be awoken by an explosion of chalk dust and noise, as the well aimed shoulder launched, rocket propelled board rubber impacted on the desk in front of you!!!
Anyway, some 30 years later, I'm spending this 'Wednesday afternoon' on a windswept and poorly drained patch of ocean! The poorly drained bit is fine – it would be a bloody long walk from here!!
The progress to the halfway point has been slow, mainly because the weather in the eastern Atlantic has been very confused. The trade winds are yet to properly become established, and the result was very low daily mileages. As previously mentioned, I'm also only using about 50% of the Haskapa's potential, mainly because I do not want to over-stress her. I'm a long way from anywhere, and breakages would not be good!!!
I'm hoping that the western half of the Atlantic will see slightly better organised weather, but already I'm facing a couple of days where the winds become light and variable. The forecast for next week is a little better, but as I mentioned yesterday, entirely dependent on me getting as far west as possible now to escape light winds in the east.
In other news, the 'Mo' is growing again!!! Not sure why or how!! Still no other marine life bar the flying fish, but thankfully no rubbish either.
………………………………………………………………………………………………………………………………………
Today's thank you goes to; Helen & Steve Gaskell & Family, Ed & Caroline Butler & Family, Jim & Siobhan Mainstone & Family, Fay, John  & Coco Cox and Alasdair MacLeod. Thank you so much for all your kind donations.
---
ITV Meridian Interview
Posted on November 22nd, 2013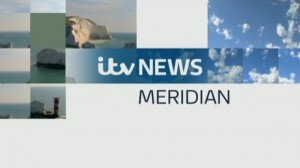 Keep a lookout on ITV Meridian local news over the next few days, for an interview with Richard. He spoke to them from mid-Atlantic at midday today.
---
Day 20 – Harsh Realities
Posted on November 22nd, 2013
Over the last 24 hours, the wind directions have meant that I've dropped south of the Tropic of Cancer. I've been working hard to run as close to it as possible, but without now doing a couple of dog legs north, the southerly trend will continue. And the harsh realities of the Atlantic weather patterns are going to determine what happens next. Sadly, I do not have infinite time, nor sufficient supplies on board, to add extra mileage at this stage. There is the added concern that unless I get further westwards, next week sees the eastern half of the Atlantic affected by variable light winds, which I cannot afford to get trapped in.
So I've made the tough decision to make best speed west, which will mean dropping further south away from the Tropic. I am deeply saddened not to have been able to spend more time sailing along it, but as I've stated before, few plans survive contact with reality. As one fine American gentleman once said to me: 'it ain't no Hollywood movie, dude'! I'm still uncertain what he meant, given the context in which it was said, but it works fine in this case!!!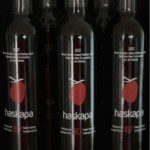 Other harsh realities came to light this morning when I found that the remainder of my fresh oranges are no longer fresh!! So I've eaten the last fresh fruit onboard!! Despite the hopes of a very good friend of mine and his kids (who shall remain anonymous) that this will see the immediate onset of scurvy and see my diet reduced to weevils and drinking my own urine, they will be disappointed!! I'm still munching through my daily ration of haskapa juice and dried haskap berries, so I've plenty of fruity foodstuffs left!!!
The white spinnaker has faced some harsh reality too! It was put in the naughty corner for a while, which seemed to work, as it behaved impeccably on the last two occasions it was used!!
The managing of harsh realities is in part what the Sobell House Caring for The Carer Project which is being supported by the fundraising from Tropic4Cancer is all about. The aim of the project is to develop a range of tailored support and training to help the family and friends care for their loved one. The path of any illness, especially a terminal illness, is not a linear one. Things change and develop at rates that are often far different to expectations. This means that the patient and their carers are having to respond to changing circumstances, and anything that can help manage this dynamic situation will be useful.
The Project will not cure cancer, but it may make the impact of the harsh realities of a terminal illness more bearable for both patient and carers by ensuring that everyone feels that they did everything that they could. There are full details of the project can be found by clicking on this link; http://www.sobellhospicecharity.org.uk/node/522
Sobell House is an amazing place, and quite different to how I expected a hospice to be like. It is a positive environment, and much more about living than dying. The whole team there are incredible, and are caring and supportive in hugely difficult circumstances for all involved. I will always be grateful for everything they did for us as a family.
……………………………………………………………………………………………………………………………………….
Today's "thank you" goes to; Jenny Watts, K Allen, Jenny White, Dave Peach & Family and Iain Morrison. Thank you all so much for your very kind donations!
---
Day 19 – Wednesdays!!!
Posted on November 22nd, 2013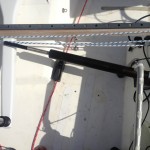 In terms of the working week, this part of the crossing is very much Wednesday morning! The previous weekend is now ancient history, and there is no sign of the the next one! Instead, you have to accept this is what you've chosen to do with your life, and just get on with what's in front of you! Having had several days of stronger winds, which although bring a certain hardship to life onboard, at least push you along quickly, I'm now back into a period of lighter wind days, slowing progress. This kind of adds to the feeling of a daily grind!!
Then followed a night which was probably the work equivalent of permanently deleting a document it's taken you a day to prepare, when we were hit by a series of squalls. We had a broach, quickly followed by a spinnaker wrap (bloody white one again!!!), a tangle of halyards, plus flying fish scattered across the deck. It was carnage!! The final insult was then to find the wind dropped completely. I gave up and went to bed in a grump! The white spinnaker is officially the most hated thing on the boat. Somehow in the latest wrap, it managed to tie itself in a knot around the forestay. It took 20 minutes of untangling whilst getting soaked through by rain to sort. Horrid thing!!
I'm forcing myself to only think about short term goals, as looking at the distance still to go isn't constructive!!! So I set waypoints along the way westwards, and focus on reaching the next one of these. I also work hard to maintain a routine, which helps keep me occupied.
This includes checking the boat over each day, looking for problems before they happen!! In particular, I am always checking the electrical system, which provides the power for the most important thing onboard – the autopilot!!! I have two autopilot systems onboard, each independent of the other. The main one is an absolute Trojan! It's driven by a box of electronic trickery, but the hard work is done by the steering arm, which produces the sawing noise I mentioned yesterday, as its servomotor drives the arm in & out to keep Haskapa on course. The other system is a self contained auto helm, carrying all its electronic magic within the steering unit. It spends all it's time in reserve, stowed away in the cabin!!
All the power is generated by three solar panels, which charge up two large 12volt batteries, from which the electronics onboard are fed. I deliberately minimised the amount of kit onboard in order to minimise power requirements, and I'm very careful about using power.
The battle with flying fish continues, and the calmer weather has brought another problem with the cessation of the self cleaning deck! With the bigger waves occasionally sweeping the decks clean during the stronger winds, I can make as much mess as I want, which along with any flying fish casualties, are washed away. I'm now having to wash this off myself – which is a bit boring! It's much easier having self cleaning floors like the ones at home!!!!!
Haskapa's Mo survived the stronger winds, but is now just a few clumps of straggly growth. I should remove it, but am curious to see what happens next!!!
Still to either see any rubbish, or to collect any in the net, which must be a good thing. I'm sure we saw a lot more rubbish when we were rowing – but I guess we were moving more slowly.
Sadly yet to see any other marine life bar the ubiquitous fliers.
………………………………………………………………………………………………………………..
Today's "thank you" goes to; Lina and Alan Rimell, Tom & Viv Cowdrill, Ian White, Mrs Popham and Mrs Hodgekinson. Thank you all so much for your very kind donations!
---
Day 18 – Its all about the Boat.
Posted on November 20th, 2013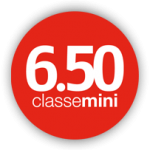 A number of people have asked why I chose to do the Topic4Cancer in Haskapa. The reason is pretty simple – she's perfect for it!!
Haskapa is a 6.50 Classe Mini yacht, and these powerful little yachts were designed to exactly the sort of voyage I'm doing. The origins of the Classe lie in a response to the ever increasing costs and complexity of ocean yacht racing, and the idea was to produce a more affordable means for sailors to compete in solo ocean racing. The Classe is governed by a set of design criteria relating to length, width, etc, but within the dimensions of this 'box' anything goes – so the Classe sees many innovations and developments, some of which go on to become mainstream in yacht design.
Primarily based in France, the Classe has ironically because of the innovation and development, become more expensive if you wish to compete at he highest level, and most of the elite sailors are pretty much full time professionals. Some of them will go on to become the Rock Stars of solo ocean racing – the Classe Minis are the go-karts to Formula 1 in comparison with motor racing. However, there are still a large number of sailors who are drawn to these boats because they provide an affordable way to sail a solo ocean race.
I too have always loved the 'bang for your buck' that these yachts offer. The minimum commitment of 2 years to undertake a campaign to race in the Mini Transat was way beyond me, so when looking for a yacht to do the Tropic4Cancer, these were the obvious choice. I love the purity and the purpose of the design, as so often yacht designers are obliged to compromise design for commercial reasons – offering options of cabin layouts, mod cons, and so on. Haskapa is not an extreme example of the Classe, so does not have things like canting keels, and this was attractive in that there was less to go wrong!
I guess that there is a price to pay for the lack of compromise, and that really is the spartan nature of the boat. It is simply a hull with sailing bits stuck on to make it go. The interior of the boat essentially has three sections: forward of the mast is where the sails live; the back of the boat has bulk storage of food, water and liferaft; and I live in the middle, in a space about the size of a 3 man tent. this is my bedroom, my office, and my kitchen. I normally dine al fresco up on deck!!
There are no frills, no luxurious fittings, no nothing!! In particular this means no sound proofing, so every noise echoes and reverberates around the boat. On deck one doesn't really notice, but in the cabin the noise is massive! There are good noises, such as the water rushing past the hull, the gentle sawing noise the auto helm makes, and even the gentle metallic 'ting ting' noise the little camping stove sat in its gimbal makes. Then there are bad noises, like sails flapping or a rope slapping against the deck or hull. Outside you can scarcely hear it, but in the cabin it sounds like a pistol crack!
Last night there was a new noise, which first I thought was a sail flapping, but turned out to be a flying fish messing about on the deck. I helped the poor chap back into the water! That was then followed by an enormous bang and more flapping – which got me up on deck pronto thinking something else had broken, only to find another flying fish who tried to jump over the boat and missed!! The boat is now covered in fish scales and beginning to smell like a trawler!!
I've also been asked about what will happen to Haskapa next. Well she's up for sale. She needs to be used, and my future plans don't include her sadly. So if you fancy owning a yacht, or know someone who does, here's the deal:
Haskapa can be yours for a minimum price of £10,000. This would be 'as is' in Antigua. She will need a bit of TLC, so this is a fair price. Anything I get over £10,000 (which I need to recover costs) will be donated to Sail4Cancer and Sobell House. There is no extra charge for the fishy smell!! Get in touch if you're interested!!
………………………………………………………………………………………………………………………….
Today's thank you goes to T. Nielsen and Company Ltd for their very kind donation to Richard's charities.
---
Day 17 – Wind, Waves & Flying Fish
Posted on November 19th, 2013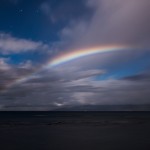 The wind has picked up in strength again, and I've now got 20-25knts of wind. As we all know with wind, when you've got it, it's always too much….!! The sea state is much rougher too, with the wave pattern still a mess!! Such fun!! Le Cirque de Bucket has gone back to full on bucking bronco mode!!!
This change in weather has also brought a couple of amazing sights – both involving more rainbow action. Firstly, during one squall, the rain drops were hitting the water so hard that the splash was high enough for the sunlight to refract through, and the whole sea surface became a simmering rainbow. Then I saw a complete 'moon bow' – a feature I've seen once before, but not so well defined.
Basically the full moon has enough light for a rainbow to form – and it's in shades of grey, touched with rainbow colour hues. It was spectacular!
As we've made our merry way westwards, I've been puzzled as to why flying fish bomb burst away from us as we approach – leaping out of the water as if to greet our arrival with a huge cheer and a jump in the air!! Then I figured that Haskapa's keel might be the reason. In profile, the keel looks like an inverted T shape, with the downstroke being the keel, and the cross stroke is a big blob of lead, shaped into a bulb, which I guess because of it's design looks a bit like a big fish!! So rather than celebrating our approach with aerobatics, the poor little things are flying for their lives!!
Even so, I've had a fun time watching their antics – and scoring them on performance! The winner by a country mile was a fish called Wanda  (hee hee!), who attempted a 360 jump around the boat. Taking off from the port side, she flew under the bowsprit and along the starboard side, before flying under the boom and back to the start point!!! It could have scored 10/10, apart from the judges penalised her heavily for an ugly dismount, as she face planted on the guard wires whilst exiting stage left!! The judges gave a 'Strictly style'….all together now….'SEVEN'!
Haskapa's 'Mo' is looking very threadbare now, as the surfing down waves picks away at her moustache. The clumps of bionic growth cling on at one end, giving it the appearance of a bedraggled Mexican bandit!! Don't think it will last much longer!!!!
I also saw the lights of a passing ship last night – which is the first sign of any other human life I've seen for nearly a week. It was kind of reassuring!!
…………………………………….
Today's dedication goes to very kind donators; Mary & Martin Bailey, Michael Blakley, Gilly & John Pollard, Jennie Bailey & Family and K Makepeace.
---
Thank you to 'haskapa'
Posted on November 18th, 2013

Today's dedication is to our fabulous Title Sponsor 'haskapa' who's very generous donation to our charities has enormously boosted our total fundraising.
haskapa is a unique juice made in Nova Scotia from Haskap berries. Haskaps are small oval berries, often likened in shape to an elongated Blueberry. Haskap berries have a dark blue skin and an intense crimson flesh. Their unique taste is likened to a combination of Blueberry and Raspberry with a hint of Elderberry.
Haskap berries contain high levels of anthocyanins, vitamin C, phenolic compounds and other antioxidants. They have been used widely in folk medicine in northern Russia, China and Japan since ancient times. In recent years, phenolic compounds present in fruit crops, especially berries, have gained much attention due to the accumulating scientific evidence of their potential health benefits.*
Haskap berries also contain traces of selenium, the element said in Japanese folklore to restore youth. Charmingly, the word Haskap in Japanese means 'little present at the end of the branch'.
The Haskaps will be a fantastic source of nutrition and energy during the Tropic 4 Cancer transatlantic challenge. Richard will be drinking a daily ration of Haskap juice and his diet will include a regular portion of dried berries. For more information on haskapa and the Haskap berry, please visit the website: http://haskapa.com/
---
Day 16 – 'Tropic of Cancer'
Posted on November 18th, 2013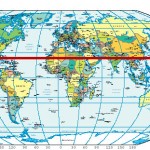 Today we reached the point on the ocean where the Tropic 4 Cancer concept was born! 8 years ago, Liz and I rowed across this piece of the Atlantic and first started talking about the idea of a circumnavigation of the world along the Tropic of Cancer.
The original plan was to do the full journey by land and sea, setting up or linking with a cancer related project in each country, with the oceanic legs being linked to Sail 4 Cancer.
Unsurprisingly perhaps, the demands of normal life, family, business, and the harsh realities of world events made the original plan an impossibility for us. It's still there if anyone fancies it….!?!?!
The voyage that I'm currently undertaking is a development of the original Atlantic Leg, but now driven by the very personal involvement that we've had as a family with Mum's death from cancer.
This weekend also saw another milestone. To pass the time, I spend a lot of time counting things (number of meatballs in the pasta (16), number of clouds that look like rabbits (3), etc etc) and making lists (favourite songs, countries visited, etc), and during one random train of such thought, I was listing summer Olympic venues, when I recalled the rather damning view put forward by the 'antipodean' media that all Team GB's medals are won in events where you sit down (sailing, rowing, cycling, etc). Obviously this is not the case, and it sounds like sour grapes to me!
Anyhow, that then got me on to thinking about the fundraising adventures I've undertaken in support of Sail 4 Cancer, and I realised that this weekend was the 100th day that I'd spent sitting on my butt doing such events!!
It started with sailing the Fastnet Race in 2003, followed by Liz & I rowing the Atlantic in 2005. I then did two cycle rides in 2007 (Raid Pyrenean) and 2009 (Route of the Tour de France), and now the Tropic 4 Cancer!! Depending on how long this crossing takes (the speed I'm going it may take 100 days itself!!!!), including the training and qualifying races for the Fastnet, I'll have spent 100 days at sea in support of this fantastic charity.
I first got involved with Sail 4 Cancer when one of the founders Andy Hayward came to see me when I worked for the British Offshore Sailing School in Hamble. Andy was keen to see if BOSS would take some people linked to the charity on a yacht in the Fastnet, which I ended up skippering.
At that point, although in our extended family we had been affected by cancer, I had no particular desire to support a cancer charity, but I was hugely impressed by the passion and the integrity that Andy had for what he is doing. I also saw the benefit of using sailing as a means for offering respite to those affected by cancer, as there is a natural tendency to leave the burdens of everyday life behind when you go sailing.
The relationship with the charity continued when Liz and I decided that we wanted to have another purpose to our transatlantic row, and raising money for Sail 4 Cancer seemed a logical choice. The first cycle event in 2007 also followed this line of thinking, and I cycled with Richard Groome, one of the Trustees at the time, and who was keen to develop the range of '4 Cancer' activities.Sadly, by the time we set off to ride the route of the 2009 Tour de France, Mum had already been diagnosed with lung cancer, and the bike ride became much more of a personal crusade.
And so I find myself right back where we were 8 years ago – older, wiser and a bit more saddle sore!! It's been hugely rewarding to be able to have supported such a great cause – by simply sitting down for a jolly long time!!! Everyone involved in Sail 4 Cancer is fantastically passionate and motivated about what they do, and they genuinely make a huge difference for people affected by cancer.
In marine life news, I found a dead flying fish on one of the solar panels this morning – by the accident of a badly timed jump, the poor little thing went from flying fish to frying fish in the change of a letter!!
For those participating in Movember, as we have been on the same tack for a few days now and thus tipped over on the starboard side, Haskapa's 'Mo' has become a bit lopsided – being kind one might say 'jaunty', or being honest one might say 'wonky and a bit silly'!! Plus there seem to be a couple of random bits experiencing bionic growth rates. Should be able to plait them soon!! Or I might just change course and see if it all drops off……!
More happily, no rubbish to report.
---
Day 15 – Horrid Clouds!
Posted on November 17th, 2013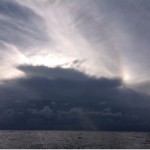 Last night seemed to bring me Halloween and Bonfire Night in a oner!! Following a day of decent progress, late in the afternoon I approached a huge area of thundery looking clouds, obviously active and building. The wind kept changing directions, and by nightfall the sky was alive with high level lightening storms. It was all very weird and slightly creepy!!
Although this season has seen little tropical storm activity, we are still just inside the period in which hurricanes can occur, and it wasn't difficult to persuade myself that this could be the start of something!!
A dramatic wind shift to a south westerly wind forced me to head south east for an hour anyhow, and then that died away – I guess cancelled out by the prevailing easterlies. A period of two hours of calm (and lots of slopping about!!), the wind filled in again from the east, and is now forecast to build in strength for the next few days.
So off I plod west again, hoping for at least several days of decent progress. I'm being very rapidly caught up by the leading boats in the Mini Transat, who've enjoyed strong, but favourable winds all the way so far. I don't want to get mixed up in their race, but it would be good to see them in action!!
I've now been at sea for a week since leaving La Gomera – it seems like much longer!!! I've probably got another two and a half to three weeks to go. I'm already far enough west to really notice the time difference between here and the UK. My 0800hrs morning phone call to Liz and the kids now takes place just before sunrise!!
This weekend's sailing is dedicated to the Company of Actuaries Charitable Trust And their very kind donation!
---
Day 14 – A Few 'Thank You's!
Posted on November 16th, 2013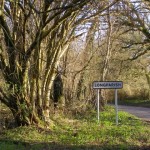 A huge thank you to the Yummy Mummy Mafia of Longparish School, who held a cake and tea party yesterday in support of Tropic4Cancer, thus helping to raise funds for Sobell House and Sail 4 Cancer. This typifies the fantastic support that I've received from our village. Longparish is an absolute gem of a place, set in the heart of the Test Valley and with all the components of the rural bliss (beautiful houses, lovely countryside, outstanding school and playgroup, church, good pubs, shop, cricket club, etc etc), plus a vibrant and supportive community. Its a truly great place to live. I'm very much looking forward to attending my first meeting of the LBC on my return (Longparish Boys Club – only slightly less scary than the yummy mummies – but perhaps more brewery than bakery!!).
Thank you all again for all the supportive messages. These get passed on to me by Liz in the daily updates from home, and they are great to read.
I'm also getting updates about the Mini Transat Race, which has now started properly after many delay and false starts due to bad weather. They are competing in boats of the same type as Haskapa, and its fascinating to read all about how they're coping with the sort of conditions I experienced down to the Canaries. Obviously they are racing, so will be pushing much harder that I needed to, and as a result the leaders are absolutely flying along – with huge daily runs. There are also many boats who've sustained damage too.
In turn, I've been reflecting on how I'm getting on (sorry – it's an obsession! ). I'm probably only sailing at 50% maximum of the boat's capabilities, but I'm not racing and also have already broken stuff!! This is much more about the adventure, and achieving the objective of finishing the crossing for the charities. I know that I can push harder, but the consequence of more gear failure could be difficult. So I am continually erring on the side of caution. This means progress is steady rather than spectacular!!
But I am making progress!! I'm now within a degree of latitude to the Tropic of Cancer, and although I'll continue to drop south, will be endeavouring to stay within a degree either side of the line for as long as the weather lets me!
Otherwise, I'm delighted to report no sign of any rubbish in the areas in which I've sailed, but sadly apart from a few flying fish, no other marine life.
Fingers crossed on a good result for England against the All Blacks……..!
---
Day 13 – "Life of Pi … lite"?!?
Posted on November 15th, 2013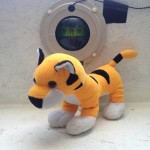 Alongside Bear and the occasional passing bird, the other passenger on board is Ellie, a little tiger that my daughter gave me from her collection of animals to keep me company onboard. Haskapa is starting to look a bit like a CBeebies version of Life of Pi, but I can assure you we're all getting along fine!!
Ellie is a fine choice of companion, as she came into our lives after a visit to Ellingham (hence 'Ellie'), which is where Liz & I were married.
Progress has been rather slow over the last day, as the dreaded calm patches have reappeared again. This has lead me to actively seek out naughty clouds, where there is at least the guarantee of some wind! I was treated to the most spectacular sunset as a result when, as I sailed into the setting sun running along the southern flank of a line of rain clouds, a line of rainbows appeared. It was almost like driving down a rainbow lined avenue!!
These sort of sights help offset the gloomy feelings caused by slow progress. This is now the fifth full day since leaving La Gomera, and I'm averaging way less than a 100 miles per day – mainly because of the painfully slow progress on day 1 and 2. Haskapa doesn't have a big engine that I can use if there is no wind, so I'm entirely dependent of the sails for momentum.
In these light wind conditions, most of the drive comes from the spinnakers, which are both the prettiest and the most temperamental sails onboard. Perhaps it because they spend a lot of their lives stuffed in bags below decks, but when they make an appearance they are very needy!! My white spinnaker seems particularly spineless and has developed what seems like a dependence on the forestay for support, grabbing every opportunity to cling on to it – hence the moonlit spinnaker wraps!!
I don't mind admitting that I find the lack of progress hard. I have the fortune to be able to control most things in my normal life (or at least am allowed to feel like I'm in control!!!), and I guess part of the attraction of these types of challenges is that I no longer have the ability to shape events in the same way. I know I cannot expect things to turn out exactly how I planned them, and dealing with the difficulties and changes is all part of it! It also helps me to remember that I put myself here primarily to help those who do not have a choice about the circumstances in which they find themselves.
Today's sailing is dedicated to kind donators, David Davies and Mavis Dobson
---
Day 12 "Passengers!"
Posted on November 14th, 2013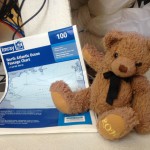 The last 24hrs have seen light winds and a much flatter sea state, so much so that I was able to have a 'bucket bath'. You'll be relived to know that this is in a different bucket with which Cirque de Bucket performances take place!! A cleaner and less smelly skipper arrived on deck yesterday evening, so much so that a migrating (house/sand/?) martin, obviously weary and a bit disoriented, was not put off using Haskapa to rest up for a few hours! The poor thing kept trying to find places to land, but kept selecting rubbish options – like the sails or ropes, all of which bounced it off after a few seconds.
Finally, just as night fell, it kind of crash landed at the base of the mast – no doubt in part attracted by the fine workmanship of the repairs there!! I didn't see how long it stayed, but it wasn't there later on when I blundered up on to the foredeck to deal with a spinnaker wrap by moonlight – which for non nautical types is a bit less Bacharach and David than it sounds!!
A more permanent passenger is the rather distinguished Royal Opera House Bear owned by Joy, my mother in law. This Bear accompanies family members on trips of daring do to provide luck and support. It is incredibly well travelled, having already walked to the North Pole with Caroline and Matt, rowed across the Atlantic with Liz & I, done operational tours in both Iraq and Afghanistan with John, and sailed the North Atlantic with John!!!
He had taken up the luxurious position of Bear in Residence aboard the family flagship Motor Yacht Blue Moon, where he was happily watching the world go by, before being dragged board Haskapa! This will be his third transatlantic trip, and in the smallest vessel so far. Happily for the Bear, he is getting slightly better treatment than when we took him on the rowing boat. The poor chap was tied to a light fitting on deck for the first three weeks of the crossing, and it took a Tropical Storm type thing for Liz & I to finally take pity on his little bedraggled face peering into the cabin at us and to bring him into shelter!! He stays in the cabin on Haskapa and just keeps an eye on what's going on!
Today is another day of light winds and spinnakers, and with stronger winds forecast for the weekend, I've also taken the opportunity to have a shave. Haskapa is still going for the Movember thing in a big way! I'm slightly embarrassed to report that the growth which started in La Gomera has now grown into rather fine green whiskers, which are delicately set out just above the anti foul line on her stern – like a sort of Clark Gable moustache!! I'll monitor it for a few days to see what happens, and as its not slowing the boat down, just let her carry on doing her thing!!
Happily there is no rubbish in the ocean to report – in fact I haven't seen any sign of human life outside the boat for 36hours now! Am I all alone out here……?!?!?
Today's sailing is dedicated to Julian Dodson, Andrew Durbin, Heidi Duckworth, Amanda Goldsmith, Mr Hawes-Fairley, C Rogers, Matt Davies, Mike Trueman, Penny Collinson, Nikiki Baugh, Emma Newton and all those who kindly threw 'pennies in the pot' at Sandbanks Boatshow
---
Dedication of the Day
Posted on November 13th, 2013
By way of thanks to all those people who have kindly made donations towards Richard's charities, we will be dedicating days from now on to individuals who have very kindly supported these causes.
The 3 days from leaving La Gomera up to today are dedicated to Richard's father, Dick Mayon-White, for all the support, kindness and help that he has given to Richard and his family during the build up and start of this challenge. He has also very generously donated towards the chosen charities.
---
Day 11 – "What the Clouds are Saying!?!?"
Posted on November 13th, 2013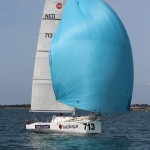 Yesterday saw a cessation of hostilities between skipper and weather. As a result, a gentle day was had by all. Progress was slow but steady, and Haskapa sported a modest sail plan of reefed main, genoa and a return of the flying jib!!! Although the winds were light enough for a spinnaker, both Haskapa and I felt the need to be conservative after the previous day's breakages!! Softly softly catchee monkey!!
The nights are amazing with moonlight and starlight – plus shooting stars – and accompanied by glittering phosphorescence in Haskapa's wake!! It could almost move one to get all poetic!! Well almost…..!
Another feature of the world around us out here are clouds. Clouds always bring a change, usually in wind strength or direction. There are good clouds and naughty clouds, and little point in trying to guess what a cloud will bring by its appearance. Some fluffy little white clouds that frolic around the sky like little baa lambs and look like they wouldn't say boo to a goose, bring enough wind to knock the boat over; whilst other dark brooding granite faced brutes who look like they're going to give us a proper kicking, pass overhead with just a gentle waft!! But this isn't consistent – so I treat the approach of all of them with some caution! This morning has delivered a cloudless sky and so we are having a gentle play with spinnakers!
Morale was also lifted by the discovery of some chocolate buttons and a lovely card secreted in one of the food boxes!! Apparently there are more, I was told on phoning home to say thank you!! If you want to keep something a surprise, don't tell my daughter!! Bless her…!!!
I'm also slowly settling into a routine again, and this has helped sort me out in the head – hence less shouty stuff!! Part of the routine is an exercise session (thanks Jo Ponting – physio extraordinaire to the gentry of Longparish!!) which is definitely helping. Sailing is a funny old past time physically – in sailing dinghies you definitely get a work out, but on yachts it's difficult as the action tends to come in flurries with lots of sitting around in between!! So doing some 'phys' is making me feel a bit more normal!
I've also started my daily survey of oceanic waste. There is widespread reporting of mid oceanic 'garbage patches' of accumulated rubbish in both the Atlantic and the Pacific. These tend to be centred under areas of high pressure (gyres), where winds and currents circulate thus creating these areas of accumulated waste. The majority of the waste is plastics, which never really gets properly broken down, and instead turns into little particles which hang in the water column like a soup. (This is a highly simplified summary – the internet will tell you far more).
I'm conducting a very unscientific survey using a kid's fishing net (the one on a bamboo pole) which I dangle over the side for an hour a day to see what I pick up! I'm too far East of the Atlantic gyre to anticipate finding any micro-plastics, but it's passing the time. I'm also looking out for other rubbish – which so far has been limited to a piece of wood and what looked like a plastic mustard bottle (tried to pick it up but out of reach).
Anyway must dash, as a couple of little white fluffy clouds are trying to creep up on us…. !
---
Day 10 – "Wildlife is Running Scared"!!
Posted on November 12th, 2013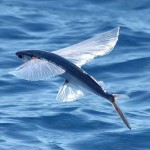 I finally seem to have broken out of the windless hole of doom that trapped me for two days! I cannot tell you how frustrating its been!! I think we went further in the rowing boat on that first day out of La Gomera than I've managed this time!!
Yesterday afternoon also saw another breakage. This time the bolt that holds the boom onto the gooseneck sheered off – probably as a result of the shock loading that the sloppy sea put on the rig. (For non yotties, the gooseneck is the joint between the tall upright sticky thing, and the sticky thing – the boom – that goes under the white flappy thingy at the back of the tall sticky thingy. It's called a boom because that the noise it makes when it hits you on the head (that's for lovers of classic nautical jokes – ha ha!)).
Anyway a search of the boat for a replacement yielded a perfect match on the outboard engine bracket!! An hour of cussing, losing several (non critical) bits over the side and we were back in business!!
I admit that I've been doing quite a lot of shouting over the last few days, which probably also explains why I've seen virtually no marine life. A dolphin did approach Haskapa yesterday, but I'm afraid I was mid rant about the injustice of wind direction & strength, and flipper thought better of coming any closer. Probably told all his mates to stay away from the loud, rude and smelly bloke on that little boat!! I did find a flying fish on the deck this morning, hopefully having died a glorious death trying to jump over the boat!
You'll see from my blob on the website that I'm heading further west than I'd planned to originally, in an attempt to make up some ground after losing so much time with repairs, etc. This means I'll hit the Tropic for less time too, but that's just how this little adventure is playing out!
---
Day 9 – "Gains and Pains"
Posted on November 11th, 2013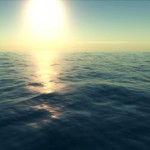 The last 24hrs have been an epic struggle between two stubborn opponents – one small and loud (me!), the other big and silent (the weather!) and poor little Haskapa was the pawn in the middle!!
Weather forecasts are only forecasts (Michael Fish, no hurricane, etc) and what happens in reality can vary considerably. I planned out my route leaving L Gomera based on the forecasts, and opted to slide along the coast before intending to move out SW into the Atlantic. The winds were forecast to be a bit lighter there, but favourable.
In hindsight, a better decision might have been to take a bit of short term pain and to have headed south first, which would have probably saved me from the battle last night. Instead, with the wind flow being completely disturbed by the islands, I was left with no wind and a very sloppy sea state. This triggered much cursing from me, as I tried to get the sails set properly – and frequently whilst sailing the same course I was close hauled and then running within the space of five minutes (pulling the sails in and out for non yotties!). Deeply annoying!!
Finally in the wee small hours, I retired to my pit muttering lots of colourful language, and left Haskapa to get on with it!! She evidently struck a deal, because fairly soon after that we started plodding along quite happily!! I guess the lesson is not to force things – simpatico!!
---
Day 8 – Leaving 'La Gomera'
Posted on November 10th, 2013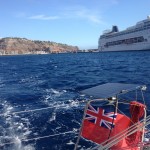 Left San Sebastián with the wind howling out of the harbour – which promised for fair winds to take me south. Less than two miles down the track, wind has done a 180 and is now firmly on the nose!!! I get the weird feeling that this island doesn't want me to go!!!
Anyway, now tacking my way down the rocky coastline and hoping the wind frees up once I'm south of the island!
Still, shouldn't complain. La Gomera was very good to me and Haskapa. If you're passing, definitely drop in there. If you need your boat repaired, Andy is the man to help. My kids called him 'Handy Andy', but this was primarily to get around a bit of confusion when my son thought I was getting help from Bob the builder! I'm sure Bob could have helped, but if you do stumble across someone called Bob the builder in La Gomera, I can't offer any guidance on the quality of his work! Handy Andy is very good however!
---
He's Off Again!!
Posted on November 10th, 2013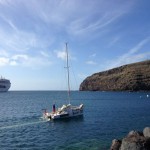 And so at 10:30am GMT Richard departed from La Gomera to head out across the Atlantic (again)!
There to give Richard a 'mini' send-off was Carsten from Atlantic Campaigns. We are so grateful for all the support that Atlantic Campaigns have given Richard during his time in La Gomera, without whose contacts repairing the boat in time would have been very much more difficult.
Richard will now head in a SSW direction to try and pick up the Tropic of Cancer in the next few days. He will then head West along the Tropic and across the Atlantic Ocean.
Keep checking back on Facebook, Twitter and on the website for daily updates of fun and frivolities on the Ocean!
Thank you for all your support for Richard. Keep the comments coming in on Facebook or to Richard's email work address, they will all be passed on to the man at sea, and are all hugely appreciated!
---
La Gomera update 6 – Hurry up and wait………!
Posted on November 9th, 2013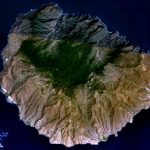 I had been hoping to get away today (Saturday), but another pulse of stronger winds and bigger waves is currently sweeping through the area, and the prudent thing to do is wait 24hrs! With age comes wisdom!!!!
Anyway, on the other occasion that I set off from here to cross the Atlantic we were delayed by the weather – so the additional wait is now tradition!!
It has been fantastic being back in La Gomera. It really is a special place, and quite different from the tourist hot spots of the other islands. It's not exactly behind the times, but has yet to lose the community structure to larger commercial business, so it retains a 'old fashioned' feel with all the businesses being family owned and run. Pretty much everything is available here, but you just have to hunt around a bit as things are not always where you'd expect!!
Having said that, I'm suffering a bit from 'greener grass' syndrome, and am really itching to get back to sea. Obviously, after a few days of bobbing around on the briny, I'll be wishing I was ashore again!!! You just can't please some people!!
Haskapa also needs to get water rushing under her hull again, as there is a week's worth of marine growth on her rudders – I guess it could be her attempt to join in with Movember!!! Doesn't really suit her!!
---
Over halfway to fundraising target!!!!! Thank you everyone!
Posted on November 8th, 2013
Overnight saw us pass halfway towards the total fundraising target of £40,000. This is amazing!! Thank you so much to everyone who has already so generously donated!!!!
As everyone involved at Sobell House and Sail 4 Cancer has repeatedly said, raising money for hospice and respite care is hard work. They are not 'sexy' causes – very few celebs and hardly any fluffy animals are involved! The work they do goes largely unnoticed until you are brutally made aware of their existence, and immediately appreciate everything they do. So to have raised over £20,000 so far is brilliant!
As a quick reminder, donations are being used to fund a research initiative run by Sobell House which aims to educate, empower and support the lay carers (family & friends) of terminally ill patients. This initiative is designed to pilot and test interventions that fit into the National End of Life Care Strategy. In addition, Sail 4 Cancer will establish a Sobell House Respite Fund, which will provide appropriate respite holidays and activities for patients and carers involved in the scheme.
---
La Gomera Update 5 – It looks like a shop bought one!
Posted on November 7th, 2013
The repairs are complete!! After several days of Anglo-German collaboration, Andy the boat builder and I have fixed Haskapa!! OK, so in terms of European engineering projects it's not quite up there with the Eurofighter, but we're pretty pleased with it – and it almost looks like one you'd buy in a shop!! Like many of my building projects, it looked like a dog's dinner mid-way through, but normally ends up looking the part.
Admittedly it's probably a bit over-engineered and almost up there with the workstation that Peter & I built for the old Wilderness Expertise office at Wellington College in 2004. That could survive a nuclear blast!! In fact, come Armageddon, only that workstation, Haskapa's deck and cockroaches will survive!!
But don't get the idea that all my work is over-engineered! I could point you at a number of temporary 'lean-to' buildings and structures that are rather less well built! Although after the recent strong winds in the UK, pointing to exactly where they are might be hard, as these may well be scattered across Southern Britain. If a piece landed in your garden, sorry – no hard feelings, eh? You never know, one day it might be worth something!! At the very least you can say it came from a sustainable source, even if the original structure was far from being so!!
I digress. So, have a bit of work to do in terms of re-rigging once the various materials used in the work have 'gone off' (dried!!). Then some admin to sort, a double check of the weather forecast (currently OK – but with stronger winds forecast Fri pm- Sat), and all being well we should be on our way by Saturday morning.
---
La Gomera Update 4 – Etiquette & Esperanto
Posted on November 6th, 2013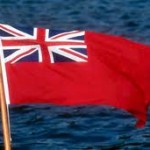 Haskapa is berthed with other small yachts on the outer edge of the marina, but still occupies a fairly prominent position where tourists, passers-by and other 'yotties' can see her. As a result, each day there is a steady stream of people who wander around to look at the boat and to ask about Tropic4Cancer.
Invariably, unless the visitor is German or Nordic (and therefore speaks English), the conversation takes place in Franglais or Spinglés (or a combination of both with some other languages added in!) with frenetic gesturing to navigate through both parties's limited vocabulary. This tends to limit the range of conversations, which is probably a good thing!!
Misguidedly for all concerned, when in conversation with a group of French yotties we strayed into the tricky subject of flag etiquette on British vessels!! They wanted to know why the flag on the back of Haskapa is the Red Ensign. This is a difficult thing to explain in English, so I am still puzzled why I chose to pursue this in detail with this particular audience rather than either making something up, or pretending I hadn't understood the question!!
The lesson on 'l'histoire de maritime anglaise' started with the explanation that in the past, the Royal Navy had three Squadrons (Fleets) – Red, White & Blue. Ships flew the colour of ensign corresponding to the squadron to which they were attached. As other non naval ships also flew a Red Ensign, the Admiralty were keen to remove any ambiguity, so decided that all Royal Navy vessels should fly the White Ensign.
Given the warm sun and general entente cordiale, I opted not to share with them the reason behind the selection of White rather than Red, which had historically been the senior ensign. Nelson had been the Rear Admiral of the White Squadron at the time of his death, hence the Admiralty decision, and dredging up the whole 'Nelson winning the Battle of Trafalgar against the French' thing just didn't seem right!
Anyway, we got there in the end, which in simple terms is:
The White Ensign used by the Royal Navy.
The Blue Ensign used under Admiralty warrant by certain officers and clubs.
The Red Ensign used by civilian vessels.
I think they understood, but anyone ever meets a French sailor who tells a slightly different version of this, I apologise!!!
---
La Gomera Update 3
Posted on November 5th, 2013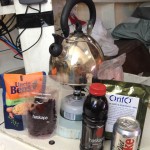 I've spent today sorting out my food supplies for the rest of the voyage. I have a box which contains a week's worth of rations stowed in a very accessible position. The remainder of the food supplies are stored in rather more inaccessible locations, but where they best help the trim and balance of the boat. As most of the time I hope to be sailing downwind, this means at the stern (blunt end!!) of the boat.
Haskapa is short and fat, with a big bottom! She is designed to behave a bit like a surf board, and her broad beam helps her to surf down waves. By placing most of the stores at the back of the boat, it helps her surf better – it's the nautical equivalent of 'pulling a wheelie'!! Even with this, Haskapa was still nose diving during some of the surfs last week.
Most of my food is in the form of boil in the bag army rations. This is quick and easy to prepare (I just shove the packet in the kettle!!) – and tastes ok. I have a breakfast one, washed down with a bottle of Haskapa juice. I then snack on cereal bars mid morning, before a lunch of noodles or rice and a Diet Coke! Supper is more boil in the bag (pasta/curry type thing) followed by a bag of dried Haskap berries – plus a choc bar and a cup of lemon & ginger tea!!
I also drink water through the day & night – approx 3 ltrs per day, and have a couple of vitamin tablets!!
I doubt Heston, Jamie or Gordon would be too excited by this menu, but their kitchens are probably more stable (in physical terms anyway!!!).
---
La Gomera Update 2
Posted on November 4th, 2013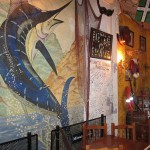 Liz flew out to La Gomera yesterday for a short visit, amazingly on the 8 year anniversary of us flying to La Gomera in preparation for the Atlantic Rowing Race 2005!
We met up with Carsten, CEO of Atlantic Campaigns and the organiser of the Atlantic Rowing Races, the next of which is due to start from La Gomera in 30 days time. The 2013 edition looks amazing – have a look at their website www.atlanticcampaigns.com Carsten and Atlantic Campaigns have been incredibly helpful – being there to watch me in on Thursday, arranging a mooring in the marina and liaising with Andy to talk through repairs to the boat.
We also had our photo taken with Manolo at the Blue Marlin, a much loved and well frequented bar by all ocean rowers over the years. The Blue Marlin has had all the walls in the Bar signed by all previous ocean rowers who have left from La Gomera. Each race has its own corner. Although most of the 2005 year is now hidden behind a jukebox, it was still fabulous to see that the tradition has continued. No doubt the 2013 rowers will be here soon, leaving their own marks!
Speaking of tradition, overlooking the entrance to San Sebastián harbour is a statue of Jesus to welcome sailors to a safe haven. When we were based out here for the month before we rowed the Atlantic, Liz and I would do a daily 'run up to Jesus' to keep fit. So we thought it only fitting to do the same 8 years later!!
This time it was more of a walk than a run, but we still reached Jesus before the rain started to come down! After sheltering for a few minutes, we decided there was a bit of a break in the weather and headed on down the mountain – just as it started to really rain!!! By the time we got back into town, it had turned into a full blown tropical thunderstorm – with so much water falling from the sky that manhole covers had been blown off and sewage was spilling out of drains and pouring down the main streets. The TV news later reported that over an inch of rain had fallen in just 20 minutes!!!
As very little gets done in the Canaries over the weekend, repairs to the deck and mast are not likely to start on Haskapa until Tuesday. In the meantime, the sails have been repaired, and various bits of rigging have been put back in their proper places! So long as the other repairs go well, I should still be able to get away by the weekend.
---
La Gomera Update
Posted on November 3rd, 2013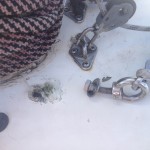 I have been spending the past few days here in La Gomera recovering from Thursday night and fully assessing the condition of yacht Haskapa.
On Friday I thoroughly cleaned and tidied up the boat and putting everything back where it was before entering the Tenerife / La Gomera washing machine! I also fully assessed the damage from the previous day and past week's  sailing.
Having also spent some time going over the boat with local boat builder, I can conclude that there's good news and bad news (as our son would say)!!! Good news is that it seems that Haskapa managed to come out of Thursday's washing machine relatively unscathed, and so the only repairs that need to carried out are to those things that broke before the Canaries; the bad news is that the repairs are likely to take a week or so.
So I am very likely to be here at least until next Saturday repairing, recovering and resting. Although give that the weather I have been through is not really giving me a break, that is no bad thing!!
---
Day 7 – 'La Gomera'
Posted on November 1st, 2013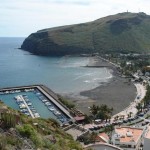 I'm sat quietly at our mooring in La Gomera. It's a rather remote, but very beautiful place, and it's lovely to be back here.
The last week, and last night in particular, have been hard work. This was never supposed to be a luxury cruise, but a break from the weather would have been nice! For some stupid reason, in yesterday's report I'd noted that things were calming down a bit. Oh foolish boy! That is pretty much laying down the challenge of 'is that the best you can do'!!! And guess what, it can always do better!!!
Perhaps the weather forecast says it better than I can (Thank you to my father in law Pat O'Keeffe for all his weather reporting):
"Winds NE Force 5 or 6, locally 6 or 7. Gusts.
Sea moderate or rough
Please be aware that wind gusts can be a further 40% stronger than the averages given here, and maximum waves may be up to twice the significant height"
Well, it gives me no great pleasure to say that the forecast was accurate!!!
Sailing is like flying, in that once you are out in the medium of air or sea things are generally ok, and so long as you have a bit of space, you can generally sort things out. It is only the coming into contact with land that can lead to problems!!! Having been bashed about at sea for 6 days, the arrival in the Canaries saw by far and away the roughest sea states and strong winds. There is always a natural tendency to exaggerate conditions, but all I can say is that it felt like F6-7 plus 40%!!!!
Having negotiated the pressure washer environment of the channel between Tenerife and La Gomera, I arrived at the entrance to San Sebastián harbour to find the wind funnel out against me at a billion miles an hour. After several attempts to sail in (during which watchers on the shore kept up a splendid running commentary of Liz by phone – 'he's going back sea…..no he's coming back in again…..looks like he's heading for the beach……back to sea again….back in again…….etc etc', I finally made a rather inelegant landing on the end of the sea wall (think duck landing on an icy pond) – which was terra firma, but too firma for Haskapa and not really firma enough for me. A tow from a RIB got me the last few hundred metres into the marina, at which point we were able to finally rest.
Poor Haskapa is rather bruised after the last week and the bumpy arrival. I'm slowly going through the boat finding things that need repairing. Frustratingly, the temporary fix for the issue with the kicker has ended up with a fitting being ripped out of the deck, and there are other fittings that have been pulled partial out. This need proper repairs and reinforcing. I also broke part of the bowsprit during the sea wall landing – and possibly made the pointy bit at the front a bit less pointy, but that needs a closer inspection!!!!
I might have a beer or two tonight!!
---