The Tropic 4 Cancer Trans Atlantic Challenge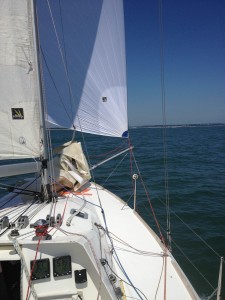 Tropic 4 Cancer Trans Atlantic challenge is an expedition to sail single-handed 4000 miles across the Atlantic, from the western seaboard of Africa to Antigua.  The route follows a defined course along the Tropic of Cancer, which is a circle of latitude running around the Earth at approximately 23 degrees north, and which marks the most northerly position at which the sun may appear directly overhead.
The crossing will be made by Richard Mayon-White, who will be sailing a 21 ft yacht from Gibraltar to the Antigua.
The primary purpose of the expedition is to raise funds in support of two charities: Sail 4 Cancer and Sobell House. Richard's mother spent her last few weeks in the care of Sobell House, passing away on the 26th of October 2011. The caring environment offered by Sobell House to was amazing. Since his Mum died, Richard has always felt the need to give something back, and Richard has been involved in fund raising projects for Sail 4 Cancer since 2003.