Day 28 – Do the Math!!
Posted on November 30th, 2013
Onboard Haskapa, it's all about numbers: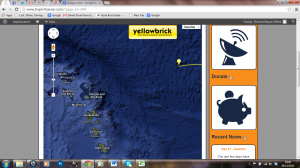 Speed
VMG
Max speed
Average speed
Distance travelled
Distance left
Daily distance
Average daily distance
Course
Bearing
Lat & long
Wind speed
Wind direction
Wave height
Wave direction
Time
Date
Journey time
Number of meatballs in the pasta
etc, etc
But, it boils down to just one number right now. To reach Antigua mid afternoon (local time) on Monday, when you're watching the early evening news (or reruns of Top Gear on Dave!), I need to average 5 knots directly towards the final waypoint.
Frustratingly, I cannot sail directly towards Antigua at the moment, as the wind has shifted, and will continue to do so. So this means it's all about VMG – velocity made good!!! >5knots VMG = good … < 5knots VMG = bad!!
It's very stressful!!!!
…………………………………………………………………………………………………………………………………
Today's thank you goes to; Mrs Airey, Sarah Blocksidge & Bodyzone24, Dr Pollack, A Melrose, Louise Worsley, Doerte Steinhoff, Mike & Margaret Shaw and Jane Burt & Family. Thank you all so much for your very kind donations !
---