Day 30 – Arrival into Antigua
Posted on December 3rd, 2013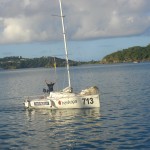 And so after 29 days at sea (21 days from La Gomera), Richard arrived in Antigua at 07:45 local time (11:45 GMT), to a small group of family (and some new friends!!). The day was then spent berthing, clearing customs, doing TV interviews and relaxing back on dry land.
Richard will follow up with a full report on the last day and a bit at sea, but for now he is pleased to be here, pleased to sleep in a bed that doesn't throw him out, pleased to not have to get up every two hours to trim the sails / look out for ships, pleased to not have to sit on the bucking-bronco-bucket, and most of all pleased to have time to relax with his family!!
Thank you so much to everyone who has followed Richard's journey. Here are some photos of his arrival!
…………………………………………………………………………………………………………………….
And finally …. a big thank you today goes to; Laura & Scott Evans & Family, J Major, Damon, Chrissie & Taylor Clark, Jonathan & Alice Evans & Family, Will Bentley, Jo & Tim Ponting & family, Ashley & Leigh Aspin & Family, Dr Edward Walton, Mary & David Bebo, Kate & Russell Myers, Sharon Davies and Lorna Angier!. Thank you all so much for your very kind donations!!
---