Click on the month or category you want to view and the results will appear below
By Date
Archives by Category:
---
Day 6 – Land Ho !!!
Posted on October 31st, 2013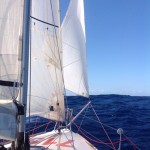 Land ho!!!! The distant sight of the top of the giant Mount Tiede on Tenerife greeted me this morning – which was a fantastic start to the day! The weather has calmed down a little, but the sea state is still pretty lumpy. There is blue sky, the sun is shining, and it's not raining – so who am I to complain!!
Motivated by crossing paths with a tall ship, who swaggered by with a 'I've got considerably more sail than you' type attitude, and in an effort to force the pace a bit, I tried the small spinnaker.
Small sail, big mistake!! We set off at an uncontrollable Mach 2.5 warp speed downwind on a course which would have seen me arrive in Brazil sometime just after lunch (or more likely broken up on re-entry to earth's atmosphere)!! Lets just say that we've all learnt a little bit more about each other, Haskapa & I!!!! We are now sporting a rather natty sail plan with the storm jib set as a flying jib on the bowsprit. Haskapa and I are both ok with this, and whether or not it's added any speed is by the by!! Strange thing, sail envy!!!!
The list of things required in La Gomera has grown again – partly as a result of the shenanigans above – latest casualty were sunglasses! This is added to by the need for another spare CO2 canister for the self inflating life jacket, which self inflated when I got jumped on by a wave on a visit to the foredeck (pointy bit at the front of the boat for landlubbers). Cue comedy moment of me fighting sudden onset middle aged spread whilst trying to do something vaguely sensible like sort the sails out!!
All being well I'll be in La Gomera sometime around 2200hrs tonight. Then I can start getting things fixed on Haskapa tomorrow. I'm enormously grateful to the help that we're getting from Carsten & Nikki, who are the organisers of the 2013 Atlantic Rowing Race which sets off from La Gomera at the end of November. This will be the latest edition of the race that Liz & I did in 2005. Carsten is based on the island, and has helped sort the berthing in the Marina and someone to inspect the broken mast fitting.
Thank you again for all the messages of support. These all get collated by Liz and sent to me via email in a 'daily news' format. It's hugely entertaining and encouraging to read the comments.
---
Day 5 – Tricky 'Business'!
Posted on October 30th, 2013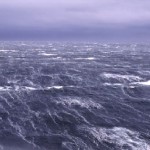 The last 24 hours have been pretty rough weather, with 30 knot winds and 3-4m waves. The wave pattern is very confused with waves mainly coming from the north east, but with a few from the west, and it seems some from the east!! As a result every now and again a wave breaks over the cockpit. This usually happens when I'm least expecting it, or at the most inconvenient moment – like when I've just dried out from the last one and am about to head into the cabin!!
Life on-board is hard work when it's like this. Every little task needs planning out to avoid dropping, spilling or banging something!! But I've successfully made it through without breaking anything else!!
It also has made things like going to the loo very tricky. The loo is a bucket, and to give you an idea of what it's like, imagine putting a bucket on one of the bucking bronco machines that you see it fun-fairs and then trying to perch on it!!!! I won't add any more details, but it's challenging – and further complicated by needing to complete the act whilst strapped to the boat!! If you do get the urge to try this at home, a chest harness configuration will yield better results than a climbing harness set up when doing the strapping on bit!!! 'Cirque de Soleil' would seem easy in comparison!!
I'm making good progress towards La Gomera and should arrive there sometime Thursday night/Friday morning.
Hopefully with a bit of help I can get things sorted quickly and be on my way again!!
---
Day 4 – Still Crashing and Banging!
Posted on October 29th, 2013
Me and little Haskapa are being fairly bumped around here.
The stronger wind and bigger waves caused by the weather system that did all the damage in the UK have done a bit of damage here too!! Having spent a couple of days with the spinnaker up, I'm now sailing along with a double reefed main and a little storm jib (which for non nautical types means two small sails!!!), and still doing some amazing, exhilarating surfing down big waves!!!
However, the conditions have put a lot of pressure on the boat, and the fitting which connects the kicking strap to the mast has sheered off (again, for the benefit of non boaty types, a thingy attached to the pointy stick thingy has broken!!). Not critical, and have rerigged it, but it needs to be sorted as it has also compromised the waterproofing where the mast goes through the cabin roof.
I also found a leak! Haskapa only has two holes in the hull, where transducers for speed and depth go. The speed one was leaking, but rather ironically leaked more the faster the boat goes. I'm pretty confident that this is not how it is designed to work!! Strange choice of sailing and sinking fast, or sinking at a more leisurely pace!!! Anyway – that's fixed too!!
As result of all this, I'm going to stop off in the Canaries, probably in La Gomera, given the current course I'm able to make and the weather forecast. This is very disappointing in terms of what I'd originally planned, but it would be silly to not get things sorted when I have the chance to do so.
Morale is a little low as a result, not helped by having the feeling of being inside a washing machine! I recall this sensation very well from our transatlantic row in 2005/6, when encountering not dissimilar conditions! This is marginally better because I'm not having to go out and row every two hours (well hopefully not anyway!!).
Oops – just had to pop off to break something else!! Now have a hole in the mainsail!! Only a little one!!
Thank you for all your messages – really appreciated.
---
Day 3 – Holidaymakers & South-Going Swifts
Posted on October 28th, 2013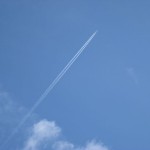 Navigation on board Haskapa has suddenly become easier as I'm now under the flight path to the Canary Islands – so simply follow that plane!!! I expect most people on-board the planes will be nicely sunburnt by the time I get to the Islands!!
I'm slowly settling into a routine, but am still tired after the 'all-nighter' on Sunday playing in the shipping lanes! The weather yesterday was awesome – sunshine all day!! Today is a bit cloudier, with a lot more wind. Had the spinnaker up until lunchtime, but had to revert to white sails – with a reefed main as the wind built throughout the afternoon. I guess it could be the tip of the tail of the bad weather that hit the UK.
Still no marine life to speak of, but lots of birds flying south for winter, including on little swift how stopped for a quick breather on Haskapa, but didn't stay more than a few seconds. Maybe I'm starting to smell?!?!
---
Day 2 – rock 'n' rolla!!
Posted on October 27th, 2013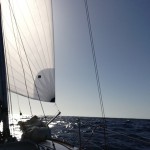 In complete contrast to yesterday, there was lots of wind today!! And waves!! It's rock'n'roll time on Haskapa today!!
The wind angle isn't quite perfect, but at least it's a favourable tail wind! I'm doing a bit of surfing – highest registered speed was 11.2 knots on the GPS.
Last night was hard work dodging ships on my way out of the straits of Gib. Had an interesting time with a trawler too – think probably finished equal on points once all manoeuvres were completed.
Not much to report in way of marine life, bar a couple of flying fish.
---
Day 1 on Haskapa!
Posted on October 26th, 2013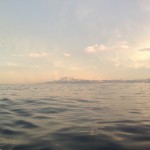 Blimey! What a day!!! Basically have been punching all day into the current that flows from the Atlantic into the Med.
Adding to the fun, it rained for most of the afternoon too!! So I was cold, wet and going nowhere!!
I've just passed Tarifa (most southerly point in Spain, and am looking back at the sunset picking out Jebel Moussa on the Moroccan coast – complete with rainbow!!
Pasta & meatballs for supper! Such fun!!
---
And He's Off … !!
Posted on October 26th, 2013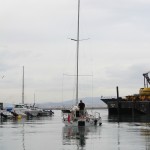 After nearly a year of planning, Richard Mayon-White and yacht Haskapa crossed the start line of the Tropic 4 Cancer Challenge at just before 11am this morning (GMT).
His journey will now take him 4000 miles from Ocean Village Marina in Gibraltar, where he has been based for the past week, down the western coast of Saharan Africa, before reaching the Tropic of Cancer at 23 degrees north. He will then head west along the Tropic aiming to finish in Fort Lauderdale, Florida, USA.
Thank you so much to everyone who has helped and supported this project over the past year. As is so often said, the hardest part is getting to the start line, and it wouldn't have been possible without the help and support of Richard's friends, family, colleagues and fantastic sponsors!
You can keep up to date on Richard's progress now by clicking on "Live Tracking" on the right hand side of the website. This will update Richard's position every 4 hours so we know where he is (broadly) at all times.
We will also post updates as Richard goes along on the website as well as on Facebook and Twitter. Click on the Facebook page to see photos of Richard's preparation in Gibraltar and his grand depart.
A huge thank you to everyone who has donated so far. We are just about half way to achieving the goal of £40,000, to be split between Sobell House and Sail 4 Cancer. Of course it's never too late to donate. Just click on "Donate" on the right hand side of the website.
---
Final Preparations!
Posted on October 25th, 2013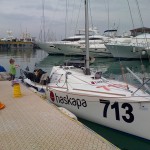 The last few days in Gibraltar have been spent fine tuning and making a last few repairs.
The family arrived on Thursday morning and were immediately set to work getting Richard up the mast to repair the Tri-Colour (Red, Green, White light at the top of the mast, for an of you non-sailors). After some investigative work by Richard's dad who was sent trawling the local Gibraltar chandleries, a new light was fitted and the last box was ticked!
The day before departure was spent doing some classic Gibraltar sightseeing. A trip up in the cable car to the top of the rock, photos with monkeys, an afternoon around the pool and dinner over looking the water.
So tomorrow, we will say goodbye to Richard for a month or so. It is fair to say that there is a sense of mixed anticipation in the air. A combination that all sailors feel, of wanting to get on with it whilst also not wanting to make that last step off dry land.
We will post photos and updates on the website as soon as we possibly can, but for more immediate updates, please do also check out facebook and twitter.
---
Rock of Gibraltar – Tick
Posted on October 22nd, 2013
Continuing the theme of sightseeing at 'speed', Richard did his daily run up to the top of the Rock of Gibraltar. The pace was almost pedestrian (it's very steep!!) but he emerged triumphant and sweaty at the summit, much to the suprise of the tourists and rock apes!
The Rock is peppered with military installations dating back hundreds of years, many of which are still well preserved. It also afforded a view westwards into the Atlantic, and it was useful to see the course for the first few miles of the transaltantic crossing!
In contrast to the Rock, which dominates all around it, yacht Haskapa is dwarfed by pretty much everything around her as she sits on her berth in Marina Bay – from superyachts to appartment blocks!!
---
News from Gibraltar!
Posted on October 20th, 2013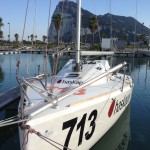 Preparations continue to go well in Gibraltar. Technically, the re-launch and rigging of the yacht took place in Spain, at Alcaidesa Marina, which is just north of the border.
The logistics of being based in Gibraltar and commuting back & forth to Spain was never going to work for long – although there was the great novelty of the commute involving a walk or drive  across a runway and a frontier!!!
So today yacht Haskapa moved to Marina Bay in Gibraltar, from where she will depart next Saturday, so long as the weather conditions are right. The forecast is for light, but favourable winds, which should allow for a break out from the Straits of Gibraltar and to begin the journey south to the Tropic of Cancer.
The weather is being less kind to 84 similar yachts who are waiting to begin the Mini Transat Race from Douarnenez in Brittany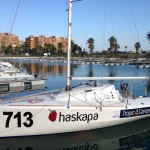 to Guadeloupe via Lanzarote. These yachts are exactly the same as Haskapa and are designed specifically for this race, which makes it ideal for the Tropic 4 Cancer challenge too. Frustratingly for the skippers, the start of the race which was scheduled on Sunday the 13th October, has been delayed due to strong winds in the Bay of Biscay. There is no immediate prospect of them starting, but they may well get away next weekend too.
---
Skipper and Yacht 'Haskapa' arrived in Gibraltar on schedule and undamaged!
Posted on October 18th, 2013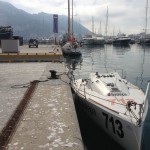 The journey south across Spain took the form of a drive-by history lesson of British impact on the Iberian landscape. Towns such as Salamanca, Badajoz and Cuidad Rodrigo will be well known to students of Wellington's forays into the Peninsular – the rest of us will know them as the backdrop to Sharpe's bodice and French head busting!!
An overnight stop in Jerez was short and sweet – and dry (chuck that one in for all you Sherry joke lovers!), before the final sprint to Gibraltar.
Predictably everything then slowed right down due to the ongoing shenanigans on the border. It really is as slow and tedious as reported!!
The boat is now once again rigged and ready, and the next few days will be full of sorting out all the kit necessary for the voyage, and checking (and double checking) that everything's working!
---
A Wet and Windy Farewell to the UK!
Posted on October 16th, 2013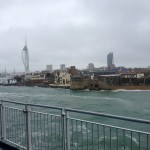 And so after a year's planning, on a wet and windy Wednesday morning Richard said goodbye to friends and family and boarded the Portsmouth ferry bound for Spain and onwards to Gibraltar.
Richard will spend the next week to 10 days making the final preparations to the boat in Gibraltar, before the family fly out for their final goodbyes at the end of next week.
The anticipated departure date is 26th October, although like all things nautical, this is very much weather dependent. Gibraltar is notorious for its tricky weather systems. This combined with the fact that Richard will be crossing the very busy entrance to the Mediterranean Sea, means that it is important to pick his weather window carefully.
Thank you to everyone who has sent messages of support, by Email, Facebook and Twitter to Richard. He really appreciates all the notes of support. Please continue to show your support and by donating via the 'Donations' button on his website.
---
Yacht Haskapa heads to Spain
Posted on October 15th, 2013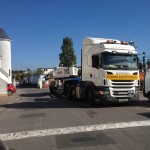 Today 'Haskapa' was loaded onto the back of a lorry and is currently heading across the Bay of Biscay (on board Brittany Ferries!) to Spain.
Just a few more last minute bits & bobs to sort out before Richard leaves the UK tomorrow, and all being well, he will meet up again with the boat on Friday in Gibraltar!!
---
Ready to leave Salterns Marina in Poole
Posted on October 14th, 2013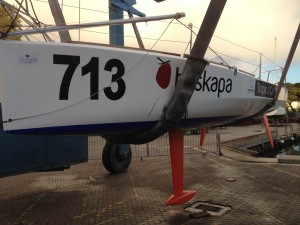 Yacht Haskapa is almost ready to begin the long journey South to Gibraltar. The team at Salterns Marina lifted the boat out for a scrub down and repaint. Haskapa now sports a shiny florescent orange keel and rudders!!
On Tuesday morning, the yacht will be loaded on to the trailer, and then head towards the ferry for northern Spain. All being well, we'll be in Gibraltar by Friday.
A massive thank you to Nick Smith and the team at Salterns for all the help and support they've given during the training and preparations in the UK. It would have been impossible to get to this stage without them.
---
Making the boat look pretty!
Posted on October 11th, 2013
A huge thank you to Ian & Timi and the team at Greenhouse Graphics for their support in providing the logos that adorn the yacht Haskapa!!
Greenhouse is an award winning graphic communications company based in Basingstoke, North Hampshire, specialising in graphic design, commercial printing, web design services,Marketing and signage and display systems.
Greenhouse has been established since 1993, and are widely recognised as a leading centre for sustainable graphic communications in the UK. Greenhouse were the first UK print centre to install PV Solar panels in 2005 and has developed our own sustainable printing system – ecoprintsystem4 – used in their in-house commercial print production facility.
http://www.greenhousegraphics.co.uk/
---
Preparations & packing!
Posted on October 10th, 2013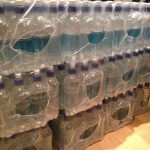 As the date for moving down to Gibraltar for the final build up draws ever closer, we've been busy packing all the essential supplies to support Richard on the 4000 mile voyage.
We picked up the 120 litres of drinking water from Will and the team at The Southdowns Natural Mineral Water Company.
Expedition food, the First Aid Kit, a Satellite Phone and a few other pieces expedition kit came from Mark & Callum at Equip-me.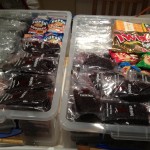 We also received the award winning Haskapa juice and dried haskap berries from our title sponsor.
There are now just a few jobs left to complete before the yacht Haskapa gets lifted out at Salterns Marina in Poole, and is loaded on to a lorry for the journey south to Gibraltar.
---
Tropic 4 Cancer title sponsor Haskapa wins major award!
Posted on October 4th, 2013
---