Richard Mayon-White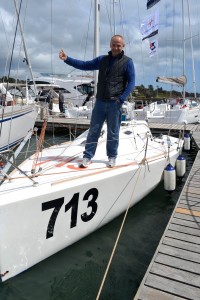 Richard Mayon-White is the Director of a number of companies in the Adventure Travel, Expedition and Exploration sectors.
Richard is a Fellow of both the Royal Geographical Society and the Zoological Society of London. He is also a commercially endorsed RYA Yachtmaster, and has used his sea-faring skills to bring personal development opportunities to a number of organisations and companies.
In his spare time, Richard has travelled extensively – usually on sailing or mountaineering trips, which have included climbing Kilimanjaro and Aconcagua. He has skippered yachts in the Fastnet Race and Three Peaks Yacht Race.
Richard has undertaken a number of challenges to raise funds for Cancer charities:
2003 – Skippered a yacht in the Fastnet Race, crewed by a team of people raising funds for Sail 4 Cancer
2005  – competed in the Trans-Atlantic Rowing Race from La Gomera to Antigua with his wife Elizabeth, arriving in 6th place and setting a record time for a couple! The row raised funds for Sail 4 Cancer
2007 – Completed the Raid Pyrenee, a 720km bike ride through the Pyreenes from the Atlantic to the Mediterrean, raising funds for Sail 4 Cancer.
2009 – Cycled the route of the 2009 Tour de France to raise money for Sail 4 Cancer and the Oxford Cancer Centre.
Richard lives in Hampshire with his wife Elizabeth and their two children.