The Route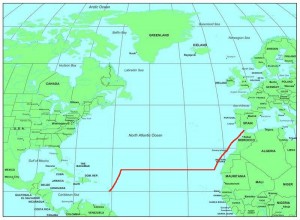 The concept of the Tropic 4 Cancer expedition dates back to when Richard crossed the line of the Tropic of Cancer in 2005 during his trans Atlantic row. At that time, it was simply another thing to do, but his mother's illness placed another dimension undertaking the crossing.
The Tropic of Cancer is a circle of latitude running around the Earth at approximately 23 degrees north, and which marks the most northerly position at which the sun may appear directly overhead.
The voyage will start in Gibraltar at the end of October 2013. Richard will then sail south, following the western coastline of Morocco and the Western Sahara, until reaching the Tropic of Cancer at 23 degrees north. Richard will then alter course to steer the yacht due west along the Tropic of Cancer, which he will follow  for 3000 miles until reaching Antigua.
The constraints of following the exact line of the Tropic of Cancer are that Richard will have to deal with whatever the weather throws at him, and will not have to luxury of being able to alter course to gain the optimum benefit from changes in wind direction and strength.
At the time of year that the voyage takes place the prevailing winds should blow from east to west and therefore allowing the boat to be sailed more easily along the course. However, tropical storms and even hurricanes have been recorded in the area at this time of year, although it is uncommon.