Day 25 – Careful What You Wish For!!
Posted on November 27th, 2013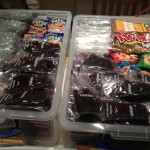 Having tempted fate with the go faster haircuts, etc, the wind duly arrived – with attitude!! I've now got 20-25knts, with a bit more in the squally clouds, and a very confused sea state!! Having been playing with big sails on Monday, I've now only got tiny scraps of sail up, and we're still bombing along!!
It's hilarious how quickly one adjusts to relative speeds. With the stronger winds, Haskapa has been doing 10 knot plus surfs down waves, and suddenly speeds of 5 and 6 knots seem pedestrian! Yet only two day ago, reaching 4 knots was a major achievement, and the thought of 6 knots as ridiculous as winning the lottery.
With the increase in speed also comes the hope of arrival dates in Antigua. This is a very dangerous game emotionally, so I have to be very careful to manage my expectations. But it is impossible to avoid the extrapolation of daily mileages into arrival times. All I'm going to commit to in public is that, all things being equal, I should arrive next week!!!!!
The other adjustment that needs to take place is for the change in the motion. Having had a few days of quite smooth sea states, the bumpy stuff takes getting used to again!! It is also harder on me and the boat in terms of wear & tear. I spent a bit of time yesterday patching sails, which are showing the miles that they've now sailed. Equally, my hands in particular are a mess. Cuts don't really heal properly, and the skin is all flakey!! Both Haskapa & I are starting to look a little ragged!
I did manage to treat myself to a hot shower though, by capturing rainwater from the squalls. The downside was that in order to catch the water, I had to endure two cold showers!!! It was lovely to feel really clean for the first time in days!
I'm now well and truly in to my fourth rotation of the menu, and it's just starting to get a bit dull. The excitement of counting the number of meatballs in the pasta has really lost its shine! It's fascinating how much my taste buds crave interesting tastes – I've got curries, chillies and sweet & sour meals, an these are far more appealing than the more bland meals of pasta and sauce. This leads on to another emotionally tricky game – planning the first meals that I'll eat in Antigua!! There are quite a few more boil in the bag meals to get through before I can really let myself go on that game!!
Anyway, I'll just keep banging out the daily routine until one day, hopefully soon, someone tells me to stop!
……………………………………………………………………………………………………………………………………
Today's thank you goes to Chrissie Cooper, Lorna & Bobby Angier, Pippa Milton & Family, Matt & Jo Lambert & Family and Philip Norris. Thank you all so much for your very kind donations!
---