Day 24 – Changing Gears!
Posted on November 26th, 2013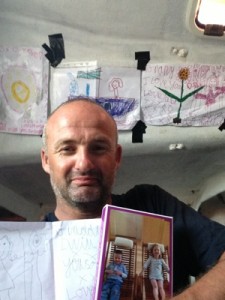 Haskapa and I got all turbo nutter again yesterday afternoon!! Perhaps frustrated by a slow day on Sunday, and this ongoing niggle that I should push the boat harder, we decided to give it a bit of welly!!
Unsurprisingly, the result was a lot of crash bang wallop! Over the space of about 4 hours, the sequence of events went like this:
Light winds in morning
Set big blue spinnaker, plus full main
Huge line of squalls approaches
Set off downwind at Mach 2
Total wipeout
Break kicker (again – of more in a mo)
Genoa up
Wind drops
White spinnaker up (groans all round)
Inevitable spinnaker wrap (to be fair was driver error – was trying to select different playlist on iPod & had multitasking issues!)
Genoa back up, plus flying jib (just because!)
Lunch break!
Wind drops again
White spinnaker back up
Another line of squalls
Manage to hold it together for 1 hour @ average of 8knts
Another big wipe out
Genoa & flying jib up again
Wind drops
White spinnaker back up
Line of squalls approaches
Etc etc
It was a lot of fun, but hard on both me & the boat! The kicker mast fixing broke again, as mentioned. When he used titanic sized rivets to put it back on, Handy Andy said that they'd never come out again – and he was right!! Instead the fixing shattered, leaving just the bits where it's riveted! I've now rigged up a ball of knitting to hold it in place!
After all that, I've gone back to the default position of being super conservative. The real difficulty is predicting what wind is under these clouds. I normally err on the side of caution, but on a number of occasions have found the there is no wind at all under the cloud, so have just ended up drifting even more slowly having reduced sail!!
Hey ho!! Anyway, the day ended with a fantastic find of more chocolate stashed in a food box, complete with a lovely 'have a happy day' card made by daughter!!
……………………………………………………………………………………………………………………………………………………
Today's thank you's go to; Pat & Joy O'Keeffe, Claire Nash (& Longparish Playgroup), Bill Hiorns, Mary Miller, Patrick Milston and Mr E Upton. Thank you all so much for your very kind donations!!
---